Petru Poni
(b. January 4, 1841, Săcăreşti village, Iaşi County - d. April 2, 1925, Iaşi) was a chemist, physicist, educator, mineralogist and Romanian politician, pioneer of chemical education in Romania.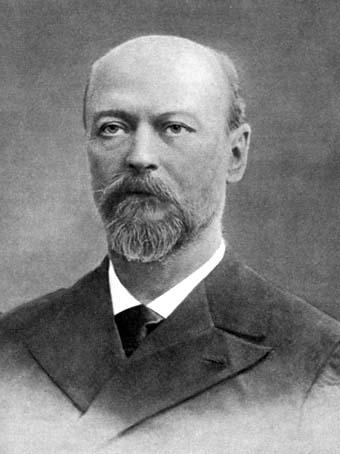 He followed the primary school in Tâgu-Frumos and then the Central Gymnasium in Iaşi (1852-1859). He received a scholarship in Paris specializing in physical chemistry and mineralogy at the
College de France
and the
Sorbonne
. Poni returned in Romania in 1865 and in 1866 he taught at the Military School of Sciences. In 1878 he became head of the Department of Chemistry at University of Iaşi, where he taught for 33 years. Here he founded: the first laboratory of Chemistry (1882) and the Department of Organic Chemistry (1891). In 1897, Petru Poni and Anastasia Obregia inaugurated in the new building of the University of Iaşi a chemistry laboratory, after the German model. In 1903 Prof. Petru Poni introduced a new course,
The chemical study of the oil
.
In June 30, 1879 he was elected member of the
Romanian Academy
and in 1889 he was appointed Commissioner of the Romanian government at the Universal Exhibition in Paris. He collaborated on the establishment of scientific societies in Romania: the
Romanian Society of Sciences
(1890), the
Society of Sciences
(1900), and was a member of the
Society of Natural Sciences
in Moscow (1910).
Petru Poni is noted as one of the prominent members of the National Liberal Party (PNL). He was elected several times as deputy or senator. He also served as mayor of Iaşi in 1907 and 1922. He served three times as Minister of Religious Affairs and Education (July 21 to November 26, 1891, October 4, 1895 - November 21, 1896; October 24 to November 29, 1918).
He studied over 80 minerals collected from various parts of the country and even discovered two minerals he called
Broştenite
and
Badenite
. Petru Poni studied the action of nitric acid of various concentrations on paraffinic hydrocarbons isolated in indigenous oil. He studied the country's mineral waters and made meteorological observations in Moldova. He was one of the pioneers of Romanian Chemistry is considered the founder of the Romanian school of Chemistry. Currently, the Institute of Macromolecular Chemistry of the Romanian Academy bears his name.